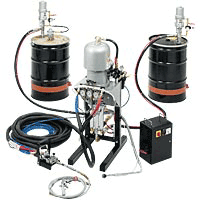 Accurately proportion plural-component materials
Fixed Ratio Hydra-Cat proportioners accurately pump plural-component materials by powering two or three positive displacement pumps from a common air motor. This assures that the stroke rate and stroke length of all pump lowers are identical, providing constant proportioning. Models with two identically-sized lowers provide balanced pumping forces which prevents premature packing wear. Models with three pump lowers and cylinders of various sizes can be selected to provide a wide variety of mix ratios.
Features and Benefits
Severe Duty lowers for wear-resistance and durability
Multiple pump lower configurations achieve a wide variety of mix ratios
Two-pump lower offers a consistent 1:1 mix ratio
Three-pump lower provides mix ratios above 1:1 for balanced pumping
Teflon packings are standard on Hydra-Cat lowers


Key Applications
Farm and construction equipment
Truck and bus
General metal fabrication
Foam and elastomerics
Sealants and adhesives


Key Materials
Epoxies
Polyurethanes
Waterbornes
Acid-catalyzed wood finishing materials
Stains, lacquers and varnishes
a selection from our products...
Hydra Cat Fixed Ratio...

High volume mechanical proportioner that replaces the manual pre-mixing of plural component materials and reduces the cost of wasted paint and labor.

Dynamic Mixer...

Dynamic Mixer Complete Stainless Version Pneumatic Drive Double Rotating Seal

Silco Mix L200-150...

The SILCO-MIX L200 has beenspecifically developed to handle twocomponent liquid silicones during theLIM (Liquid Injection Moulding) processwith a fixed mixing ratio of 100:100.The components are fed metered andmixed directly from original 20 - 80200 litre sizedrums and are then delivered directly tothe injection moulding machine